Dear SECA members,
Government is preparing for safe and gradual resumption of economic and community activities after the end of the circuit breaker period on 1 June 2020. With everyone playing their part and observing safe distancing measures, community transmission over the past month has decrease significantly.
As we are preparing for the resumption of activities, we will update our members on communications from BCA and MOM in this page. We hope the information posted will help you in preparation for business resumption in June.
Meantime, please Stay Safe, Stay Updated, Stay tuned.
Joint MOM-BCA-EDB-HPB Press Release (1st September):

Final Reminder To Employers To Ensure Workers Undergo Routine Testing By 5 September
All workers required to undergo Rostered Routine Testing (RRT) will need to have completed a swab test in the past 14 days by 5 September 2020.
Otherwise,
– AccessCode Status will be reflected as Red under the "Health Status"
– Workers will not be able to return to work
– To-date, about 62,000 workers who need to undergo RRT have not yet been scheduled by their employers.
❌ Employers who behave irresponsibly and persistently fail to schedule workers for RRT may have their work pass privileges curtailed
⚠️BCA has revoked the approval to resume works for about 1,148 workers as they have failed to undergo RRT for a prolonged period of time, despite multiple reminders to their employers.  They are only allowed to return to work once they have undergone RRT.
Tips on Swab Registration System (SRS):
– Log in to SRS (https://go.gov.sg/bca-tlg-hpb-srs-login) to schedule workers for RRT or check regularly if there are new workers who needs to be scheduled for the appointment. You can also view the available test locations in the SRS when booking appointment dates.  Issues with using SRS?  Contact [email protected]
– To get an SRS login account, use this form  (https://go.gov.sg/bca-tlg-srs-form) to register. Click here (https://go.gov.sg/bca-tlg-circular-srs) for more details on SRS
– Need help with booking appointments in SRS?  Get help from BCA's Restart Support Centres by clicking here (http://go.gov.sg/bca-tlg-form-restart-clinic) or calling our hotline at 1800-3425-222 to make an appointment.
More info: go.gov.sg/bca-tlg-mom-pr-rrt-final-reminder
Please visit the following BCA website for the latest update for build environment sector for COVID-19:
Government agencies link:
Ministry of Manpower (MOM) : https://www.mom.gov.sg/covid-19
Building and Construction Authority (BCA) : https://www1.bca.gov.sg/COVID-19
National Environment Agency (NEA) : https://www.nea.gov.sg/our-services/public-cleanliness/environmental-cleaning-guidelines/circuit-breaker-measures
BCA Webinar material : https://www.bcaa.edu.sg/covidsafe
Forms to be downloaded:
– Application to restart Construction works (BCA)
– CDQ/TOLQ/FCD One time Application (BCA)
Swap Test requirements (BCA):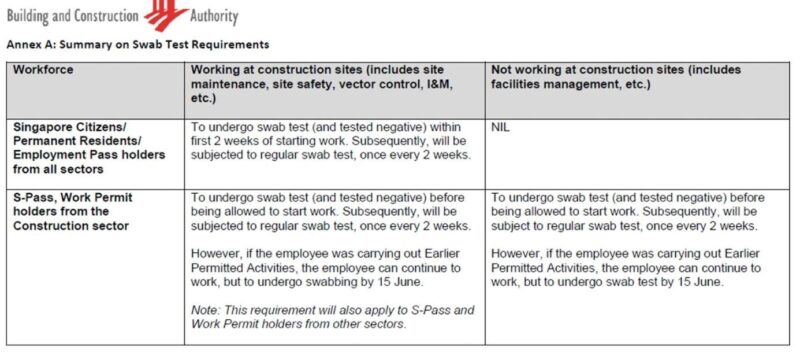 Latest Update  as of 9th July:
PROVISIONS IN THE COVID-19 (TEMPORARY MEASURES) ACT : RENTAL RELIEF FRAMEWORK
MOM : Enabling Foreign in Dormitories to return work Safely